TM
On this page are Reviews, Testimonials, and User Photos. Obviously, we have lots of room left, so e-mail me those comments and pics and watch 'em appear hear like magic! Thanks to all those who have contributed so far.
---
Leroy,

After putting the floats I ordered last year to use all year long, I wanted to report back. I have yet to manage to wear out one of the ESBs I received. All but one are still in fully functioning condition nearly a year later. (the other one was smashed by a misplaced footstep) I placed an order today for some new ones, mostly just because I have wore nearly all the paint off the rest. It looks to me like the only flaw in your product is that I won't be needing to purchase too many since they last so long. I guess that is more of a flaw for your sales totals then anything. Overall, I give your product my highest recommendation.

Attached is a picture of two trout caught on ESBs. The green size 1 ESB that I used to catch both of these fish now has over 500 hours of fishing time on it and, besides the fact that it basically has no paint left, is still in perfect condition. CR, West Virginia
---
80% of my fishing is with slip bobbers. I gave away all my other bobbers and exclusively use ESB's. Great product! I might have some pics showing my catch and ESB. Let me know if you want pics. - JA, Wisconsin
JA was as good as his word. Check out these photos, with actual ESB catches.
---
This will be my third order of your great bobbers, but this time I will have to order one less bright then the hot pink, we fish for Flounder and Reds here in Hilton Head S.C. but lately as soon as the bobbers hit the water they attract the attention of some rather large Gators, to date we have lost at least 6 bobbers to them, I'm presently using one that one of the larger gators chewed on and spit out, it looks a little strange but still works great. - MJ, South Carolina
Darn! After all the money I spent having those gators trained to eat ESBs, I expected them to get every single one! Looks like I'll have to find another way to boost sales.... :-) Thanks, M, I'm glad you like them! May I use your comments on my site?
Wish I had my camera with me would have been nice to have taken some pictures of the gators chewing on the bobbers, no problem using my comments on your site. Hope the new bobbers get here by this weekend, have some serious fishing to do.
---
Thanks Leroy. This is my 3rd year in a row ordering my "ESB's" ......And I am totally convinced that they are the best bobber on the market! - DT, Nebraska
---
RL from Illinois writes:
Nothing but praise Leroy! Went out last night Crappie fishing and was very pleased with the ESB!! I had a size 2 coupled with a #4 split shot and the buoyancy was perfect. So happy I bought 12 more bobbers!
I was mainly out to test wich split shot I need to buy, and give the ESBs a test run...but I did get about 5 crappie and a striper before the rain chased me off the water.
As I have stated, I have been a slip bobber fisherman for a long long time. These are the best slip bobbers I've come across, and have immediately replaced the dozen or so of the different brands I had in my tackle box!
---
JC, from the big state of Texas, writes:

"!!!WOW!!! The bobbers worked flawlessly. I got through the entire morning without a single bobber malfuction.

The ESB works as advertised and I will be ordering more.

Please Please make a 2oz bobber!!!!!

The bobber even survived being ran over by a truck and boat trailer Sunday morning. I guess the wind had blown it out of my truck and I didn't notice. When I came back from fishing there it was laying in the parking lot. A bit flatter but still very functional. This was the same bobber I caught the fish on Saturday.

Thanks for a great product!"

At left is JC with a 58 lb. catfish! He DID NOT catch this with an ESB, but monster fish + happy man = great photo, so I had to share it with you.
---
I got my friends hooked on this. This is my 3rd order in less than 2 months. Thanks for a great product. H.G. - CA
---
I just got the bobbers in the mail for the July Fishhoo Monthly give-away. Thank you very much for contributing, I used one yesterday after work and am quite impressed with how well they slide on the line (no hang ups). I have shared your gifts with a couple guys at work, hopefully they will make some orders. M.B. - IL
---
I would still be fishing with the same ones I purchased 2 year ago if I wouldn't have lost them or physically abused them myself. I've caught hundreds of crappie (Big Crappie) on them in 20-30 feet of water with no problems. I've caught walleye on Mille Lacs with the same bobbers in 12-18 feet of water up to 27.5 inches. No problem... They do not die....
Show me any other bobber on the market that can take the abuse of multiple fish (Crappies 14-16", Walleye up to 27.5", and stripers up to 6 lbs.) at 20-30 foot deep of water out 10-30 yards with 6lb. Stren Magnathin line and still not cause a grove to be cut in the bobber and I will congratulate you might have an EQUAL PRODUCT to the ESB's. You've got the best kept secret in float/bobber fishing period. A.L. - MN
---
The new review is in at Tackletour. com! Read it HERE
---
| | |
| --- | --- |
| Here's TD, from the great and gorgeous state of California, with one of the salmon he's been catching on ESB's. | |
---
Leroy, I have used the same manufacturer's bobbers for years and I usually could get about a week's worth of fishing in before I had to cut the plastic end back and then file on the inside a little. This year I could only get about 8 casts done before they started hanging up and you might know they would start hanging up right when I was catching the slab bluegills. (This is the 1st year that I could actually fish every single day because my son is letting me get away from my business a lot more). I was so frustrated that I took a bobber into a friend of mine that had a machine shop and I told him that I wanted the top to be stainless steel just like the bobber I was using, but I also wanted the bottom to have stainless in it so I would not get the slits in the plastic. He laughed and said for him to design the bobber I wanted that I would have quite abit of money in each one of them, but he did suggest that I go online and see if there was already a bobber being built that was designed the way I wanted it. I went to www.yahoo.com and put in slip bobbers for the search, thinking that there was probably no one that would advertise bobbers, and that is how I found you! After reading about how your bobbers were designed, I figured that they probably would cost about 10.00 each, but if they lasted as long as you said they did, I would gladly pay it. After seeing that they were only 1.40 each, which is less than what I was paying for the bobbers that I had been using, I ordered 9 of them along with some extra knots. I received your bobbers yesterday which was Monday and I just ordered them on Friday. Great service! Last night a friend of mine put your bobbers on 4 of our poles and they work great. No hangups, smooth line slippage, plenty of fish. I got up early this morning and started experimenting with the different sizes I ordered and these bobbers are fantastic! I mainly fish for Bluegills, Perch and Crappies with ultralight reels and poles, but our lake has large Rainbow trout that they stock each year and we also have nice bass. Thank you for designing the perfect bobber and my wife also thanks you, because she said she was tired of hearing about those @#@#@ @#@#@#@#@@ bobbers that don't work!!! I will be ordering more for all of my friends. Also my local bait shop wants to know how they can order from you for resale. TC, Watervliet, Michigan
Thanks to TC here, anglers near Hartford, MI can get ESB's at Rice's Sporting Equipment! Thanks much, TC!
---
Thanks again for the best slip float I have ever used. - SH
---
Hi Leroy, I ordered your slip bobbers last winter. I recently used them ice fishing and had a blast!! I rigged a small esb to my 4 year old sons fishing pole along with a small hook and wax worm, grub, spike. I set the thread to the correct depth and whammo!! He kept nailing nice rainbow trout. The esb worked perfectly!! When I am in need of more I'll let you know. Thanks and happy fishing, Mike in New Mexico
---
I got my free replacement ESB bobbers last week and tried them. They are everything you claimed them to be. Here is my order for 6 more so I can give some to my friends to try. Thanks for a great product. - DM, Michigan
---
I can't understand why anyone would ever buy a different bobber once they have used one of yours. - AL, Minnesota
---
Here's a great story from Chuck in Wisconsin:
Shortly after recieving my two free everlasting slip bobbers I took my 22 yr old grandson Jeff fishing. On his first cast he hooked and landed a 5lb catfish. On my first cast using a half crawler I hooked a 3lb bass. On my next cast the bobber went under immediately and I set the hook only to miss the fish and my bobber came up out of the water and landed with a splash only to be engulfed by some huge fish. It cut my line and the bobber disappeared. I grabbed another rod with a surface lure and casted to the same spot. Again a big splash and I was hooked into a 33inch northern pike. After a long battle my grandson netted the fish. Later, at home, while cleaning the catch my grandson picked up the pike and laid it on the cleaning table. He ran his hand over the pike's belly and said, "Gramp, there is something hard in here." I quickly sliced the pike open and discovered my everlasting slip bobber. SO THEY LIVE UP TO THEIR NAME, THEY ARE EVERLASTING! Since then we ordered more everlasting slip bobbers and have told many fellow fishermen how effective they really are. KEEP UP THE GOOD WORK LEROY!! Thanks, Chuck Dykstra Cambria, Wi. 53923
---
B.A. from Indiana: "I've been a diehard bluegill fisherman for years and most of the time I use slip bobbers. I fish deep water for the big ones. I've been using ESB's for over a year now and they perform perfectly. I won't use anything else. Great product!"
Here is my real Testimonial on your slip bobbers:

I've been fishing slip bobbers such as "T***l" and "W****T" brands for years now. Because I like to fish light lines such as Triline Sensithin in 4 and 6lb test, I have always had the same problems. The line cuts into the bobber and never feeds through to the desired depth that I have my bobber stop set to. This gets very frustrating cause you don't have the confidence that your bait is in the strike range that you intended it to be in.

That all changed last year when I found out about the ESB while searching the web. This is without question the best slip bobber I have ever used! Not once has the light line cut through the glass bead that is build right into the bobber. I have been using the same two bobbers for a year now with no problems. The other brands that I mentioned, I only get about 1-2 outings before the bobbers are useless.

Thanks to the makers of the ESB! I now have the confidence that my bait is in the strike zone. Even when fishing blind in the dark it has never let me down.
David King
Elgin, IL
Thank You, Dave!
---
| | |
| --- | --- |
| GR from Texas sent me this photo of a # 4 green that the speckled trout really liked. They ignored his bait and kept attacking the bobber! Maybe I should put hooks on them? | |
---
S.C. from Pennsylvania: "You can tell this bobber was designed by a fisherman. Great job. You made my day. After looking at the design you came up with the perfect slip bobber."
---
M.S. from Tennessee sends this photo of a nice mess of crappies caught on ESB's.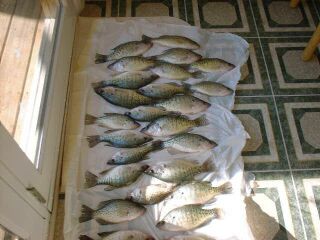 ---
D.C. from Michigan:
Leroy,
Hey, thanks again!! D*** fine idea you had with them bobbers. Since I first tried them I can't talk myself into using anything else. I do a lot of speck & gill fishin, I gotta tell ya they work dandy. They don't seem to "ice up" as quick as the others I've tried. I need to take a camera with me so I can send ya some pictures of the 15-16 inch specks we've been catchin. You'll be hearin from me again.... soon as I wear these bobbers out.
keep an eye on your bobber :)
---
Hi Leroy, I bought some of your ESB's and told you I would write you. They work great. Better then any slip bobber I have ever used. Not once have I had it hang up on the line. I crappie fish a lot and when I used my old bobbers it always took time for the light weight jig to get to it's depth because it would drag on my old slip bobbers. After putting your ESB's on my line there was no drag, it was like not using a slip bobber at all, it went to it's depth instantly. Expect another order soon, who ever fishes with me now borrows my ESB's and I usually don't get them returned to me. I am still using the same ones I first put on my line and they are showing no wear but for some reason I don't have many left. Thanks for a great product, R. H.
Thank you very much, R., I'm glad you like them!
May I use your comments on my testemonial page?
Hi, Your Welcome, I don't usually write anyone about their products but the ESB's were just like what you said they would be. That don't happen very often, expect another order soon. And yes, if would like, go ahead and use it. Edit it if you need to. Thanks again for a great product, R. H.
Page design, text, photos, and logo copyright ©1998 - 2018 HL Outdoors


The Everlasting Slip Bobber TM